Michael Zuk DDS announces search for John Lennon's Unknown Children
"I was recently contacted by an individual who believes John Lennon may be the person's father...there is a high chance someone is a rightful heir to some of the Beatle's estate. We will be reviewing further applications and television opportunities and discussing the legal steps that would be necessary if any of the individuals are a match."

Assorted Notes

John Lennon's Molar becomes an Inspiration for a Character in an
Award Winning Novel? Amazing!!! http://www.amazon.com/The-Story-Teeth-Valeria-Luiselli/dp/1566894093


Valeria Luiselli Interview (author)
From Mexico and New York, and many places in between, a conversation with the virtuoso young writer, Valeria Luiselli. The National Book Foundation named her one of its "5 Under 35" award. An exciting new voice and original sensibility.

Who are you calling a lunatic Ms. Luiselli?' - mz

----
* "Interesting to read that Yoko actually bought celebrity body parts herself way back in 1978, buying an actual Egyptian mummy in a gold sarcophagus"- Michael Zuk (quoting from the book
John Lennon, The Life by Philip Norman
- p.775)
* "Song- 'Homepage of RollingStone.com' entered into the John Lennon Songwriting Contest - "Didn't win but it was worth a try!"- mz
*Statement- "John Lennon Paternity Tests may be the near term business plan that comes out of the tooth's exploration. There may be several people walking around in their early fifties with a legitimate claim to a share of the Beatle's fortune." - Michael Zuk
*Beatle DNA goldmine discussed in recent
News Story
*John Lennon's Tooth featured on UK Channel 4
FAMOUS DEAD DNA
*Guinness Record Granted for JL Tooth - 'Most Expensive'
*
Tooth heads to Manchester UK & sees an article in the
United Airlines magazine
Celebrity Tooth Collector predicts John Lennon Clone by 2040
-
Story
John Lennon Clone's Legacy Sold Off -"Why did you sell Love Me Do?!!"
-Link
Quote:
"Can Lennon (or anyone else for that matter) be cloned? The answer is yes."
-Nobel Prize winning scientist Sir John Gurdon
(Link)
TIME MAGAZINE
:
(LINK)
Quote:
"De-extinction has gone very much further, very much more rapidly than anyone ever would've imagined.
" - Ross MacPhee, paleontologist
The first round of press was a snicker about the listing of a Beatle tooth at auction, then an explosion with the sale of the tooth for a record-breaking amount. This second blitz of mega-publicity is NOTHING compared to the attention this story will get when the John Lennon DNA project reaches the ultimate goal of bringing back an actual genetic replica of the late Rock Legend. Many will say the creation of a living clone of John Lennon is immoral or insane, but it can be argued otherwise. JL would have prefered to have lived a full life and continue with his efforts for PEACE. If things are left to natural progression, as seen with Elvis's massive estate, JL INC will eventually fall into the hands of people who have no genetic link to the Beatle. Perhaps the time is right to look into this venture as the Beatle's will.
Quote:
"The thing that I always say is, if you don't try, how would you know it's not possible?" - Insung Hwang, cloning expert
RELATED STORY IN THE HEADLINES:
Human cells have already been cloned and replicated for over 50 years. The story of
Henrietta's
Cells will shock you. It is a true story about a poor Black woman who had her cells cultured for science and they are still alive today (long after her death) in many of the labs around the world. Rich, poor, famous or unknown the issues related to genetic sciences are complex. Few will be able to make intelligent comments about these topics unless they take the time to learn more about what has already
occurred
behind the scenes.

Quote:
"If you don't think cloning is possible, you need to read BRINGING THEM BACK TO LIFE, National Geographic April, 2013." - Dr. Michael Zuk

HUMAN CLONING may already be happening. As mentioned in the article above, while you are reading this we know at least one species in Australia is being brought back to life with advanced cloning techniques. If man drove something into extinction, doesn't it seem right to try to bring it/him/her back?
The John Lennon DNA investigation may provide the essentials needed to allow the possibility of an exact genetic clone in the not too distant future. Hank Greely, who is a leading bioethicist at Sanford, commented on bringing back extinct animals as 'really cool'...we wonder what he would say about a Beatle? Groovy?
In a recent
interview
Harvard synthetic biologist George Church said:
"...reading and writing DNA is now about a million times faster than seven or eight years ago. Another technology that the de-extinction of a Neanderthal would require is human cloning. We can clone all kinds of mammals, so it's very likely that we could clone a human. Why shouldn't we be able to do so?"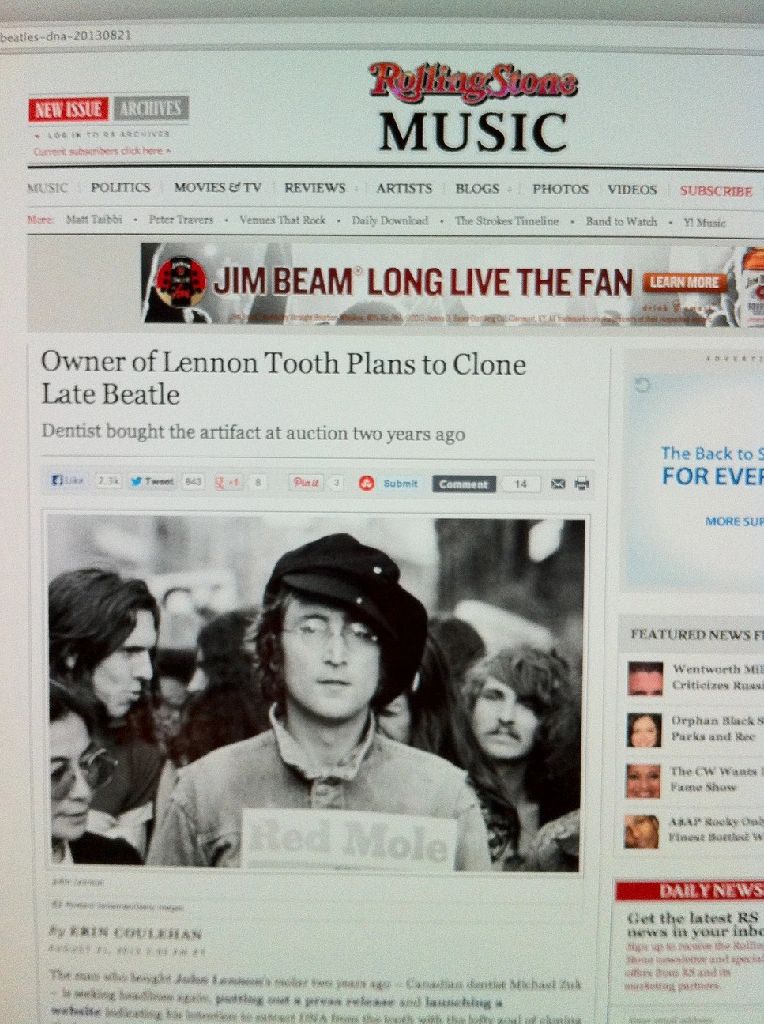 "The Tooth gets into Rolling Stone again?"

---------------------------------------------------------------------------------
The John Lennon Tooth recently visited New York City. It participated in the filming of an episode of 'Oddities', visited the Sirius Radio Studio for an interview, dropped off a photo for Anderson Cooper and visited the Dakota on the anniversary of John Lennon's passing. A following trip brought the famous tooth to London, Liverpool and Leeds with a visit to the Beatles Museum.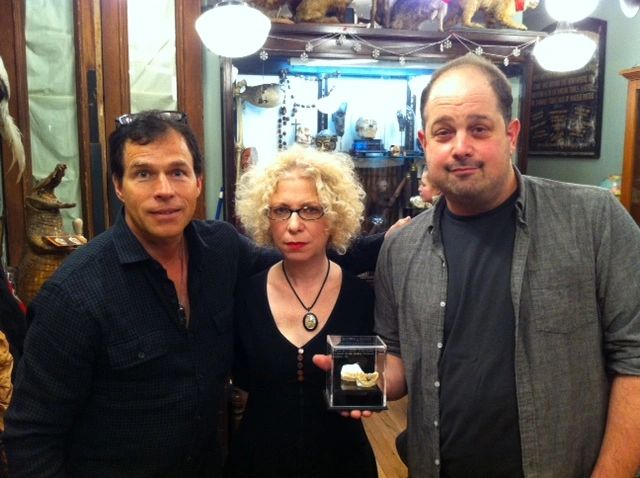 Dr. Michael Zuk with some of the cast of Oddities and a few pieces of his celebrity dental collection (JLT may appear in an episode). Zuk later
purchased some teeth oddities from Ryan (not shown)
.
The tooth of the matter is John Lennon was such a massive star in the world of music, that a crazy dentist was willing look like an idiot and invest over $30,000 US to buy it. Within 36 hours literally hundreds of millions of people discovered the fate of a small rotten molar and experts in marketing began to applaud the idea. A Kardashian quickie divorce, the Justin Bieber scandal and the Michael Jackson murder trial were surpassed by the news of the John Lennon Tooth auction. One error in the news relates to the chain of ownership - Alan McGee did not own the tooth - he simply was selling items at the same auction at which the tooth was sold.
The obsessed dentist went into overdrive and immediately pumped the press for more exposure, dreamed up a number of charity ideas, wrote a song parody, arranged a photo shoot, designed a DNA sculpture and worked behind the scenes on the DNA mystery. This was not just a rotten stinky tooth...it was an actual physical specimen of a historical figure worth more by weight and size than any other element on earth. (Read more in his book "john Lennon Tooth" - on blurb.com)
"I think it's pretty clear now that John Lennon has a magical power down to the dust of his rotten molar. He gave it to a fan, and I'm thrilled to be able to chosen to share his influence for charity, entertainment and science," says Zuk.
'Zuk' translates into the word 'beetle' in Russian/Ukrainian and Dr. Zuk lived the first few years of his life in NYC only a few blocks away from where John Lennon lived the last of his. While the two never met Dr. Zuk has met many people who have shared stories about their experiences with JL.
-----------------------------------------------------------------------------------------------------------------------------------------------------------